Seth Bloom and Christina Gelsone met at a circus in Afghanistan, became engaged while street performing in Scotland, married in China, and occasionally go home to New York City.

Since 2005, they have created seven shows together, competed in international circus festivals, performed in over 25 countries, headlined at the Big Apple Circus, and were featured on a postage stamp.
Christina is a former ballerina who graduated from Princeton to become a clown; Seth is a former juggler who graduated from three clown schools, including an MFA in physical theater.

Check out the New York Times video about us, our work, and where we live.

Seth spent his childhood in Kenya, India, and Sri Lanka. His college years were interrupted multiple times with national tours as a juggler and silent comedian. He worked extensively in Afghanistan with the Mobile Mini Circus for Children. Seth received his MFA in London for Lecoq theatre technique, and co-founded Split Knuckle Theatre, a 5-star physical theater company. He is a graduate of Wesleyan University, Ringling Brothers Barnum & Bailey Clown College, Dell'Arte School of Physical Theatre, and LISPA (MFA). He has performed in 30 countries and 49 US States.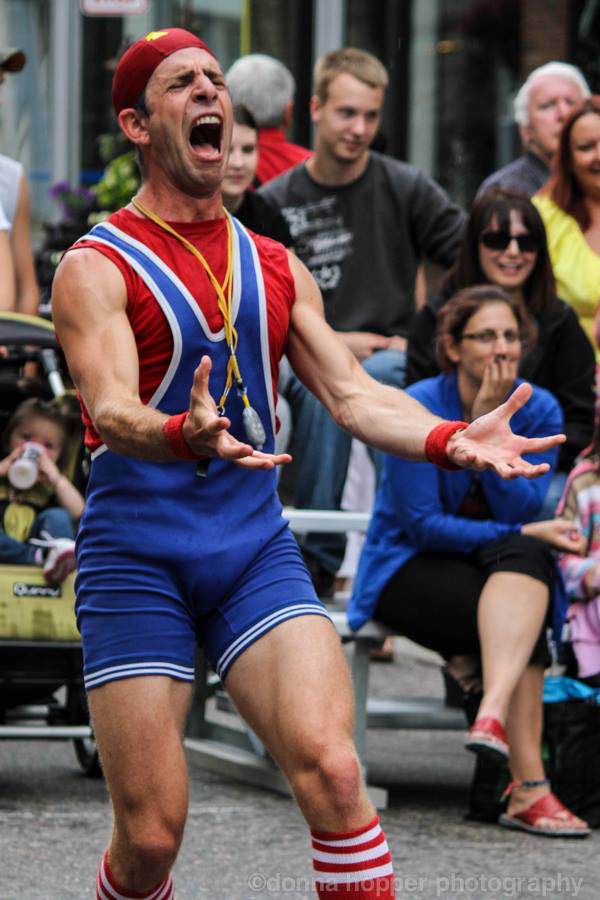 Christina grew up in Texas and has worked in 40 countries as a non-verbal clown, stilt walker, mask performer, juggler, puppeteer and acrobat. Previously a ballet dancer, she majored in Shakespeare at Princeton University and studied corporeal mime at the Dell'Arte School of Physical Theatre. For many years, she worked with New York City-based Bond Street Theater in multiple post-war zones. Other professional adventures include starting a social circus program in Egypt, creating curriculum-based comedy and teaching at universities.
Company History
Forming a professional partnership in 2005, Christina and Seth have built a reputation for making original work that challenges genres and mines big laughs with no words.

Circus and Masks
Their first show, The Acrobuffos: Madame and Monsieur, a fast-paced, non-verbal mask comedy was developed on the street with the same conditions used centuries earlier by the original commedia dell'arte professionals. After performances around the world, the Madame and Monsieur eventually landed at the Big Apple Circus as the featured clowns in the 2012-2013 season.
Check out our daily circus photos here

Street Performance
After minor back injuries in 2007, Christina and Seth were forced to make a new show without acrobatics. The result was Waterbombs!, a ferociously hilarious water balloon gladiator show unlike any other performance played on the street. Waterbombs! has now been seen in more than 25 countries.

Theater
Their most recent work, Air Play, has been touring the world since 2015. Built in close collaboration with sculptor Daniel Wurtzel, Air Play has struck a deep chord with audiences and critics alike. Air Play has now been seen by 150,000 people and counting…

More Work
Other projects have included an oversized mask show, Cafe Goma, built in collaboration with Greg Webster of Split Knuckle Theatre, as well as piloting a circus program in Egypt with Plan International and Children's Cooperative, developing new comedic material for circus rings, and marriage.

Also
Seth and Christina really did meet in Afghanistan, a country they returned to every year from 2003 to 2010.
See images of social circus projects in Afghanistan and Egypt between 2003 - 2010

Seth Bloom was a co-founder of Mobile Mini Circus for Children -- based in Kabul, Afghanistan.
More info here: www.afghanmmcc.org
Christina Gelsone worked for years in post-war countries with New York City's own Bond Street Theatre.
More info here: bondst.org