Air Play is a visual poem using no words. It lives on the edge of definition: part comedy, part sculpture, part circus, part theater. To audiences around the world the wonder and discovery of Air Play are bold reminders of childhood and growing up.

Circus and science collide in a gorgeous homage to the power of air. Flying umbrellas, larger-than-life balloons, giant fabrics floating over the audience, and the biggest snow globe you've ever seen will make you gasp in wonder and laugh until it hurts.
With visual images seemingly sewn from the sky, Air Play's poetic ode to friendship brings to life the very air we breathe.
The creation of husband & wife team Seth Bloom and Christina Gelsone, Air Play merges their circus and street theater performance art with the sculptural artistry of Daniel Wurtzel.
Air Play is made for venues seating 500 to 2,500.

"The curtains open and we see a man holding on to a huge piece of light fabric, dancing in the air, moved by a circle of fans. The wonder begins and I suddenly feel like a child again, receptive to every single magical moment in Air Play."
- A Younger Theatre
CREDITS
WRITERS & CREATORS: Seth Bloom, Christina Gelsone, Daniel Wurtzel
PERFORMERS: Seth Bloom and Christina Gelsone
AIR SCULPTURES: Daniel Wurtzel
DIRECTOR: West Hyler
TECHNICAL DIRECTOR: Todd Alan Little
STAGE MANAGER: Flora Vassar
LIGHTING DESIGN: Jeanne Koenig
COSTUME DESIGN: Ashley Dunn Gatterdam
SOUND DESIGN: Seth Bloom and Christina Gelsone
ADDITIONAL SOUND DESIGN: Phil Ingle
PROPS: Seth Bloom and Christina Gelsone

Air Play has been made possible with support from:

Playhouse Square

New Victory Theater

Zoellner Arts Center

Flushing Town Hall
TECH:
DURATION: 60 minutes
AUDIENCE: Ages 6-106
VENUE SUITABILITY: Air Play requires a great deal of height. We use fans that blow fabric, balloons, packing peanuts, and plastic bags into the air.
STAGE STYLE: Proscenium. Please contact us if you'd like to present Air Play in the round, or on a thrust stage.
MINIMUM STAGE REQUIREMENTS: 60 feet wide x 35 feet deep x 25 feet high. (18 meters x 10.5 meters by 10.5 meters high.)
SIZE OF TOURING PARTY: Four. 2 performers. 1 stage manager. 1 production manager.
LOAD-IN /TECH TIME: 8 hours with 9 local crew if lighting and soft goods have been hung.
DOWNLOADS:

New York City has a long history of artists from different genres collaborating and creating new work together. Air Play is borne from two art forms merging: sculpture and visual comedy. For five years, physical comedians Seth Bloom and Christina Gelsone collaborated with kinetic sculptor Daniel Wurtzel, creating a genre-bending show currently touring the world.

Seth Bloom and Christina Gelsone met at a circus in Afghanistan, became engaged while street performing in Scotland, married in China, and occasionally go home to New York City. Since 2005, working as their award-winning and critically-acclaimed company The Acrobuffos, they have created seven shows, competed in international circus festivals, performed in over 25 countries, headlined at the Big Apple Circus, and were even featured on a postage stamp. Christina is a former ballerina who graduated from Princeton to become a clown; Seth is a former juggler who graduated from three clown schools, including an MFA in physical theater.


Daniel Wurtzel is a Brooklyn-based artist best known for his kinetic sculptures and installations using air and lightweight materials that fly. Daniel's work is currently featured in Finding Neverland and with Cirque du Soleil in Amaluna. He has shown his artwork at the Musee Rodin, the Grand Palais in Paris, the World Expo, the Smithsonian National Portrait Gallery in Washington DC, Museu Nacional d'Art de Catalunya, the Museu do Amanha in Rio de Janeiro, the Phillips Collection, Swiss Science Center Technorama, Copernicus Science Center, and Phaeno Science Center. Daniel has also worked with some of the world's most highly regarded theater directors including Julie Taymor, Diane Paulus, Robert Lepage, Zhang Yimou, Daniel Ezralow and Michel Laprise.

West Hyler has worked extensively in theaters and circuses internationally and on Broadway, and is the Producing Artistic Director of the New York Musical Festival. In circus, he was story writer and scene director for Paramour, Cirque du Soleil's first Broadway musical, and twice directed Big Apple Circus with Legendarium and Metamorphosis. As Associate Director for Jersey Boys, he staged the show on five continents. Other directing work includes Georama (NYMF- Five 2017 NYMF awards including "Outstanding Direction"), How the Grinch Stole Christmas (Broadway), Kid who would be Pope (Ars Nova), H2O (59E59), iLuminate (New World Stages), Greatest Showman Live (China), amongst much other regional and international work.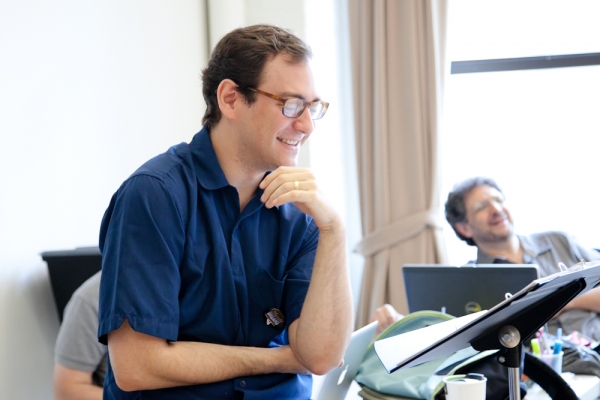 We've been fortunate to perform at some of the top theaters around the globe, from the ultra-modern Shanghai Grand in China to baroque-historic Theatro Circo in Portugal.

We've also worked with great crews in many of these theaters. We couldn't do it without them.

Here, seen from our view, are pictures of some favorite theaters and crews from around the globe.